Sales Process
When you click the button to the right, you will be asked for your payment details on our secure order form that looks like the image below.

Once you have filled in your details, you will instantly be sent to a page with details about how you can access your downloads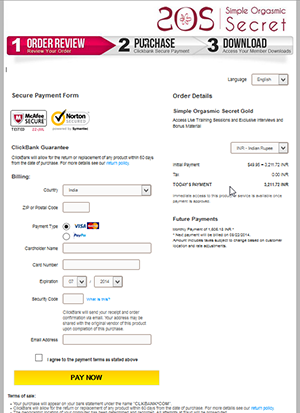 Our most successful women take us up on this offer.

As a welcome to you, we invite you to join our Simple Orgasmic Secret Gold community, where you will gain exclusive access to regular live and prerecorded content by Nadine Piat. Each session includes new and powerful insights and training is available every two weeks, only available in this community.

It is optional, and as a new member we invite you to try it completely free for an entire month, then rebilled at only $24.98 for as long as you choose to remain a member. You may cancel at any time by simply emailing our support team.
Order Details
Simple Orgasmic Secret




Simple Orgasmic Secret Gold

*Exclusive Offer* (Free Trial)


Product Price

$49.95

Simple Orgasmic Secret Gold Trial

$

0.00
TOTAL

$49.95